Are you looking for some delicious Vegan Christmas Treats everyone can enjoy this holiday season?
Whether you're treating yourself or searching for the perfect gift, Crunchbox's vegan Christmas treats are a delightful choice. Indulge this holiday season with guilt-free plant-based Christmas cakes, gluten-free and vegan rocky roads that are bursting with flavour and mindful of your well-being.
Visit our website now to explore our festive collections and place your order. Make this Christmas season extraordinary with Crunchbox's exquisite vegan, plant-based, gluten-free, and refined sugar-free creations. Your taste buds and your conscience will thank you!
PERTH'S FAVOURITE VEGAN CAFE
Why Choose Crunchbox for Your Vegan Christmas Delights?
Unparalleled Quality: Crunchbox has earned its reputation as Perth's most popular source for vegan, plant-based, gluten-free, and refined sugar-free cakes, chocolates, and treats. Our commitment to quality shines through in every bite.
Festive Flavour Fusion:  Celebrate the holidays with our delectable range of vegan Christmas treats. From sumptuous cakes to artisanal chocolates, our creations are designed to make your festive season memorable.
Health-Conscious Choices:  At Crunchbox, we believe you shouldn't have to compromise your health for indulgence. That's why all our treats are crafted with wholesome ingredients that cater to diverse dietary needs.
Ethical Excellence: When you choose Crunchbox, you're not just indulging in delicious treats; you're supporting ethical sourcing and sustainable practices. It's a gift to your taste buds and the planet.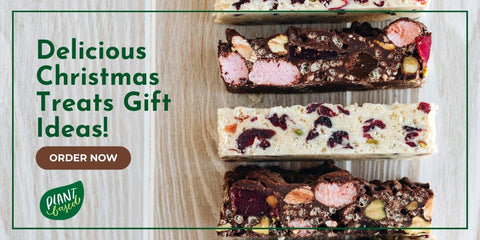 How to Get Your Hands on Crunchbox's Vegan Christmas Treats in Perth:
Visit Our Cafe: Come to our store in Perth to experience the magic of Crunchbox firsthand. Our friendly staff will be delighted to assist you in choosing the perfect vegan chocolate for your cravings.
Order Online: Can't make it to the store? No problem! Browse our selection of vegan chocolates online and have your favorites delivered to your doorstep in Perth. It's chocolate shopping made easy.
Gifts and Occasions: Looking for the perfect gift? Our vegan chocolates make memorable presents for birthdays, anniversaries, or any special occasion. Share the love of ethical indulgence with your loved ones.
At Crunchbox, we're on a mission to redefine indulgence with our delectable plant-based treats and chocolate that everyone can enjoy. Whether you're a vegan, lactose intolerant, or simply appreciate the finer things in life, our vegan chocolates are the perfect treat. Embrace your chocolate experience today and discover the sweet side of ethical indulgence with Crunchbox. 
Visit us in Perth or order online now to experience the best vegan chocolate the city has to offer
TESTIMONIALS
What our customers say
Stephanie Latte
Google Review - Malaga
Best chai ever!
Best cakes, savoury rolls & toasted sandwiches
Ashlee
Groupon Reviews - Malaga
These are the best raw treats I've ever tasted. So full of flavour it's hard to believe they have no nasties in them.
Iryna Yaminska
Google Review - Leederville
If want want those 💫delicious 💫 desserts, Crunchbox is the place. Cozy cafe in the middle of Leederville, that makes fresh coffee and has a decent choice of ice cream and sweet snacks.