PERTH'S FAVOURITE PLANT-BASED TREATS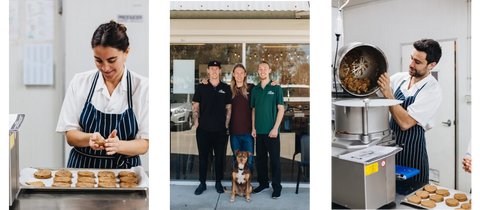 OUR STORY
Crunchbox started after Michael, the owner, struggled to find a good tasting dairy-free and gluten-free cake for his mother… and decided to make his own. His mother (and the rest of the family) loved the cake so much, soon Michael's friends and family were ordering cakes for every occasion and celebration.
From a chef background his baking skills improved and he continued to challenge himself to develop new recipes for cakes, cookies, slices, and other desserts to support a healthy diet and lifestyle.
A hobby for making delicious treat options for people with a variety of dietary requirements and preferences became a passion, and Crunchbox was born. 
From humble beginnings in a self built kitchen / warehouse, joined by two of his brothers Aarron and Matthew to now supplying over 250 businesses Western Australia wide, two shops and a whole team. Michael and the team love creating food that everyone can enjoy together and believe healthy food should inspire and unite people, rather than being a challenge to overcome - allergies and dietary choices shouldn't be a reason to exclude people. At Crunchbox, there is something for everyone.  
We welcome anyone who is interested in wholesome treats, made locally with love, and nutritious, healthy ingredients.
A few customer favourites include:
Peanut Butter Bar
Sneaky Bar
Lemon Meringue
Honeycomb Waffles
Choc Chunk Cookies
Pistachio & Rose
Try them for yourself and let us know which is your favourite!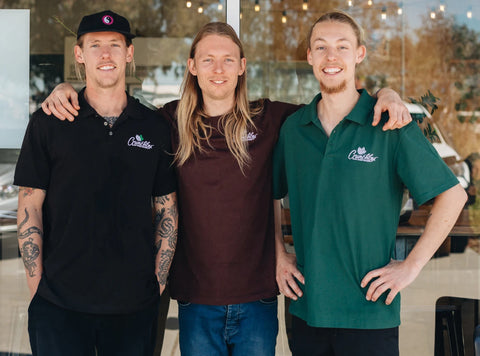 OUR VALUES
Crunchbox would have never seen this kind of success if it was not for the camaraderie and bond the team shares around healthy living and loving life fully. At Crunchbox, we are strong advocates of inclusivity in the workplace and as much as in the type of food we produce. In our endeavour to 'bring people together through wholesome treats', we have created a community passionate about wholesome natural food, local produce, and most of all having a positive impact on the wider community. We hope you can join us and support us in our quest to spread happiness and heal the world with chocolates and treats!



FOR THE LOVE OF CHOCOLATE
Needless to say, we LOVE, LOVE and LOVE chocolate at Crunchbox. Our chocolate is hand-crafted right here in WA. We source the finest cacao and coconut sugar (two plants that grow naturally together) and sculpt the finest chocolate, stone ground for 60-72 hours, yes, the type that melts in your mouth and leaves your tastebuds longing for more.
What makes our chocolate extra special though is the small batch production with fresh and traditional flavours using the finest ingredients ethically sourced cacao.
TESTIMONIALS
What our clients say
Liz Carberry
Google Review
Cookies and Creme cake is so amazing! Thank goodness it's made from great ingredients. Very hard to stop at one piece.
These are the best raw treats I've ever tasted. So full of flavour it's hard to believe they have no nasties in them.