PERTH'S FAVOURITE VEGAN CAFE
Malaga
Cafe - Toasties - Desserts - Waffles (Saturday only)
Store Hours:
Monday: 8am – 4pm
Tuesday: 8am – 4pm
Wednesday: 8am – 4pm
Thursday: 8am – 4pm
Friday: 8am – 4pm
Saturday: 9am – 1.30pm 
Sunday Closed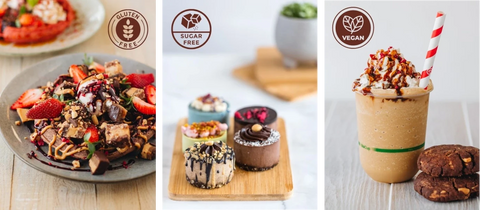 SIGNATURE GLUTEN-FREE WAFFLE AND ICE CREAM
Crunchbox's gluten-free waffles with ice-cream are a customer favourite! Packed with flavour and more health benefits that regular waffles, this delicious and nutritious delight is sure to satisfy any sweet-tooth.
A gluten-free diet is necessary for people with Celiac Disease but is also popular among people who haven't been diagnosed with a gluten-related medical condition. The claimed benefits of a gluten free diet are improved health, weight loss and increased energy. Why not give our gluten-free waffles a go? You won't be disappointed. 
We also offer a range of gluten-free and dairy-free ice-cream. See our menu for more information.
Gluten-free, vegan lunch, on the go!
Need to grab a delicious, healthy, nutritious lunch on the go? We guarantee our selection of gluten-free toasties will hit the spot and will be ready for you to devour before your next meeting.
Our range of vegan options are far from boring and provide a nutritious alternatives.
We know you'll find your next favourite lunch option at Crunchbox.
TESTIMONIALS
What our customers say
Stephanie Latte
Google Review - Malaga
Best chai ever!
Best cakes, savoury rolls & toasted sandwiches
Ashlee
Groupon Reviews - Malaga
These are the best raw treats I've ever tasted. So full of flavour it's hard to believe they have no nasties in them.
Iryna Yaminska
Google Review - Leederville
If want want those 💫delicious 💫 desserts, Crunchbox is the place. Cozy cafe in the middle of Leederville, that makes fresh coffee and has a decent choice of ice cream and sweet snacks.